Upcoming Local Government General Election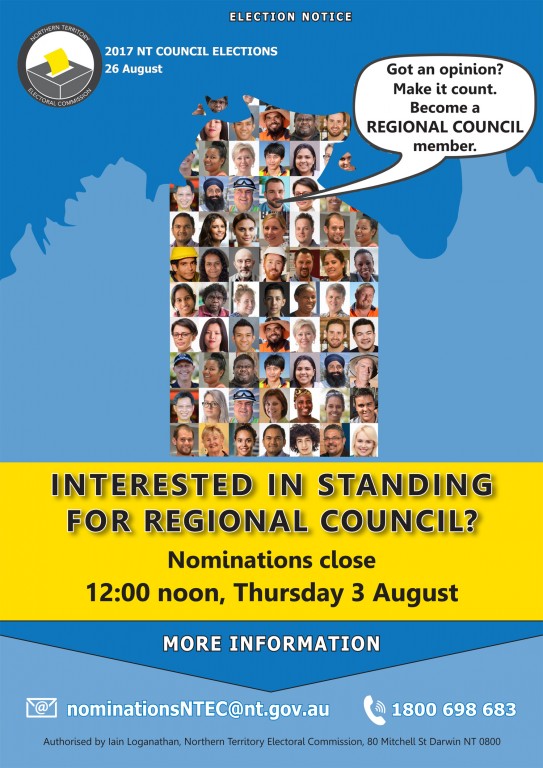 Would you like to represent your community at the upcoming Local Government General Election in August?
Nominations for the Local Government Election have now opened and if this is something that interests you, you can visit your local West Arnhem Regional Council office for a chat, or pick up a candidate pack. 
West Arnhem Regional Council consists of 12 elected members:  
• 2 representatives in the Barrah Ward; 
• 3 in the Kakadu Ward;
• 3 in the Gunbalanya Ward; and 
• 4 members in the Maningrida Ward
If you want to be a councillor, your Nomination Form must be completed correctly and handed in at the front desk at your local West Arnhem Regional Council office between 14 July and 
12 noon on 3 August.
West Arnhem Regional Council Governance Coordinator Greg Gilbert will also be visiting West Arnhem communities; Greg will be based at the council and you will also see him out and about in the community. Have a chat with Greg if you are interested in becoming a councillor or have a chat about any other election matter that you might like to discuss.  
The dates are:
• Gunbalanya – Friday, 14 July 
• Warruwi – Monday, 17 July
• Maningrida – Tuesday, 18 July
• Minjilang – Thursday, 20 July
• Gunbalanya – Monday, 25 July
If you would like any more information, please visit your local Council office. All West Arnhem residents are also reminded to check their enrolment details at their local Council office or online at http://www.ntec.nt.gov.au, before Tuesday, July 25.